Musical directing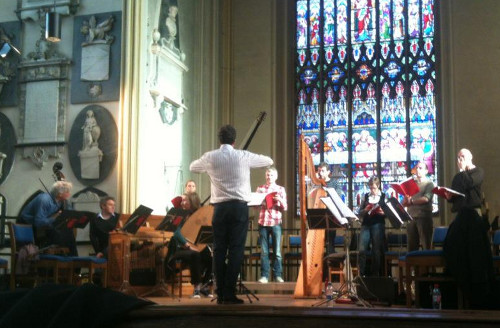 Magdalena Consort:
The most recent concert, on October 7th, 2012, was of Monteverdi's 'Vespro della Beata Vergine', which was the closing concert of this year's Tetbury Festival. A stellar line-up of singers and instrumental virtuosi were given a rapturous reception. For more information about Peter Harvey's own ensemble, please see also the Magdalena Consort page on this site (
here
) and the pages of the group's main website:
www.magdalenaconsort.com
.
Netherlands Bach Society: November 7th-11th, 2012
Peter directs the 'Nederlandse Bach Vereniging' in a programme entitled 'Concerto in Dialogo' - 17th- and 18th Century sacred 'dialogues' for voices and instruments. Includes music by Schütz, Johann Christoph Bach, Mazzocchi and J.S. Bach - some pieces explicitly designated 'Dialogue', some representative of the concept of musical exchanges of ideas. See
Netherlands Bach Society
website fro more details.
London Bach Society:
Peter recently directed a performance of 'Jesu, meine Freude' to mark the 200th anniversary of the first performance in Britain of a choral piece by Bach. That performance took place in London's Hanover Square Rooms on June 3rd, 1809, when 'Jesu, meine Freude' (in a Latin translation) was conducted by Samuel Wesley. This anniversary concert took place in St. Bartholomew-the-Great, as part of the London Bach Festival's
'Bachfest 09'
.
Wroclaw Philharmonic Choir:
In November 2009 Peter conducted the
Woclaw Philharmonic Choir
in an all-British programme of choral works by Henry Purcell and the contemporary Scottish composer James MacMillan.