Recordings


NB: Click on a link to the expanded menu to see details of recordings arranged by category
New recordings:
Recently released: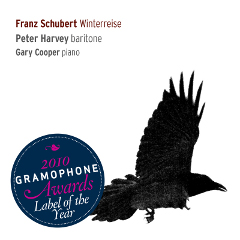 SCHUBERT'S WINTERREISE: release date November 8th
Franz Schubert's Winterreise is Peter's first recording with
Linn Records
, recently named Label of the Year at the 2010 Gramophone Awards. Peter's singing is matched by the inspired playing of Gary Cooper, who performs on an early 19th century fortepiano in this historically informed interpretation.
The recording is widely available on SACD/CD and also on Studio Master download from
Linn Records
, where you can listen to extracts and read the sleeve notes.
BUXTEHUDE: Membra Jesu Nostri:
Recorded in December 2009 with the
Purcell Quartet
on Chandos records, it is a meditation in sedven cantatas on the sufferings of Christ, each focusing a part of his body. This is a powerful and mesmeric piece by a still under-rated composer, and Buxtehude bursts the bounds of his normally restrained style, achieving a work of searing intensity. (see:
German Baroque
page)
THE QUEEN'S MUSIC:
A recording of a considerably less well-known body of music is also awaiting release - the 'Whitelocke Collection'. This is a collection of Italian compositions from the beginning of the Seventeenth Century (works by Carissimi, Frescobaldi, Rossi and Cesti - with 'Anon' well-represented, too), which was presented by Queen Christina of Sweden to the English Ambassador, Bulstrode Whitelocke. For much of the last four hundred years the music has undisturbed in the library of Christ Church, Oxford, but the Swedish soprano,
Susanne Rydén
is responsible for bringing it to light. This recording presents a selection of pieces from the collection, and the other performers taking part include
Emma Kirkby
and Danish harpsichordist
Lars Ulrik Mortensen
.
BACH CANTATA PILGRIMAGE SERIES... IS COMPLETE!:
With the release of SDG 171 & 174 the series comes to a close, ten years after the concerts which the recordings document. The year 2000 for many musicians was defined by 'the Pilgrimage' and it is gratifying that the recordings - which capture much of the spirit of the concerts - have drawn such wide praise and are held in such affection by so many music-lovers. (
www.solideogloria.co.uk/shop/
).
MESSIAH:
Handel's 'Messiah', with the
Stuttgart Chamber Choir
(which has a reputation as one of of the finest-sounding choirs anywhere), was released in April 2009, and Peter's performance attracted some glowing praise:
'In this new recording from Frieder Bernius the soloists are an impressive selection... Peter Harvey is, of course, one of the most experienced basses on the period-performance scene and it really shows. His aria 'Why do the nations' has astonishing gravitas and, with Bernius and his orchestra at their very best, makes for an incredibly exciting performance.' (
www.musicalcriticism.com
)
'Peter Harvey is absolutely superb in his tour de force arias "Why do the nations" and "The trumpet shall sound' (
www.arkivmusic.com
)
Awaiting release:
JOHANN CHRISTOPH BACH:
Music by Johann Christoph Bach, with the Monteverdi Choir & Enlish Baroque Soloists, directed by
John Eliot Gardiner
. Johann Christoph Bach was an uncle of Johann Sebastian, who considered him a 'profound composer' and took care to preserve his works. Sadly, there remains only a small fraction of his compositions, but what we know displays a rare depth of feeling. Despite a tendency towards the gloomy, there is a strikingly range of mood, at one extreme of which lies the astonishingly erotic and rumbustious 'Meine Freundin, du bist schön' - a wedding cantata loosely based on a text from the Song of Songs, and which could be considered 'barely sacred'. (Recorded April 2009 for SDG)
J.S. BACH: St Matthew Passion:
Netherlands Bach Society, directed by
Jos van Veldhoven
. This was recorded live in the church at Naarden , between Utrecht and Amsterdam, during the Easter performances there in 2010. The
Nederlands Bach Vereniging
lays claim to being the world's first 'Early Music Ensemble', having given an almost unbroken (just once, during WW2) series of performances there since 1922. (Recorded April 2010 for Channel Classics)
J.S. BACH: Easter Oratorio & Ascension Cantata
Retrospect Ensemble, directed by Matthew Halls. Other soloists are Carolyn Sampson, Iestyn Davies and James Gilchrist. (Recorded February, 2010 for Linn Records)
J.S. BACH: Mass in B minor
Yorkshire Bach Choir & Baroque Soloists, directed by Peter Seymour. (Recorded April 2010)
ALESSANDRO GRANDI: 'Vespers'
Bach Akademie, Stuttgart, directed by
Matthew Halls
. This is a conjectural festive Vespers 'reconstruction', taking as an example Monteverdi's 'Vespro della beata Vergine'. Grandi was an assistant to Claudio Monteverdi at St Mark's in Venice, and his earlier vocal
concerti
are interleaved with settings of the Vespers psalms proper, written later in his life. Whether Grandi intended such a musical 'happening' is distinctly uncertain, but the result is very appealing. It doesn't scale the heights reached by his master, but it has the curiously refreshing effect of filling a familiar form with new music. (Recorded September 2010)